L.STAMP - Intellectual Property for the new millennium
Blockchain Signing System. We consolidate time & identity easily and legal proof
L.Stamp use blockchain technology to sign and trace meta-data – all kinds of information you would like to protect, applying a legal timestamp and your verified identity, together. We allow professionals, artists, lawyers, and more, to sign Pdf, Documents, Images, and Music Files, on the blockchain network, with our 2-year full working application.
A very intuitive procedure that allows you to timestamp and archive your crucial information on the blockchain, protecting your intellectual rights a be one step ahead from your competitors!
YOU CAN TIMESTAMP AND TOKENIZE YOUR IDEAS QUICKLY AND AT 0 COSTS.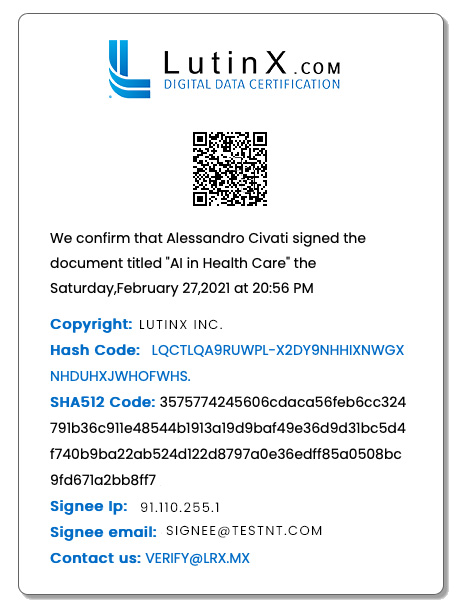 The excellent solution to protect your ideas before had the National-Patent and third Institutional registration.
Legal Value:
Still, more countries recognize at the Blockchain technology the timestamp functionality. We are live, and our time certify your data.
Probative Value:
A copy of your certified work could remain stored on our network for future probative value. In this way, we start to be a certification authority.
Safe:
The Hash code we stamp on your certificate is secure and not replicable. It means it is unique on the network, and more, it is achieved on our system.
Easy:
With a simple interface, "drag and drop," you can sign every file, in every moment, in every place.
Cheap:
You pay for what you use. You can buy just a license and save much real money.
Faster:
Our infrastructure allows you to sign in real-time your file on the live blockchain.
Tokenize:
After months of testing, we allow our clients to full-tokenize their data to offer the 100% proof of authenticity.
No Cryptocurrencies:
Thank our blockchain's partner, all our clients do NOT need any cryptocurrencies to use our services.
DIFFERENT AREAS, DIFFERENT PEOPLE, AND THE SAME PROBLEMS RESOLVED BY 8ID
Is IP important for you? Try one of our licences – 14 days are free-of-charge