The latest findings by Market Research Engine indicate that the global A.I. education market will reach $5.8 billion by 2025. In general, A.I. is revolutionizing how teaching and learning happens.
We have a look at how A.I. is changing the education industry:
Task Automation: A.I. has great potential for automating administrative functions, making work easier for education institutions and teachers. Both teachers and professors are forced to manage organizational and administrative tasks in addition to teaching. These non-teaching tasks can be overwhelming and include executive and administrative tasks such as managing teaching materials, organizing teaching resources, and preparing periodic progress reports. According to recent research, teachers spent 43% of their time on teaching, 13% on planning lessons, 11% on marking tests, and 7% on administrative tasks. Task automation will allow educators to save time spent on non-teaching tasks, including managing administrative work and grading of tests. Teachers can become more productive and dedicate time to one-on-one sessions with students.
Smart Content: Artificial intelligence is expected to add new methods towards learning and success. Smart content is more about different types of virtual content, such as digitized guides, video lectures, and video conferencing. The creation of customizable learning interfaces and digital content will improve learning outcomes. Students will be in a position to learn faster, access materials efficiently, and achieve academic goals. Smart data gathering supported by intelligent computer systems is also helping academic institutions better interact with current and prospective students. It is interesting to see data mining systems playing an integral role in the higher education sector, but A.I. could be the game-changer. Artificial intelligence will help in the recruitment of students, choosing the best courses, and providing students with a college/school experience tailored for the needs and goals of students.
Differentiated and Personalized Learning: Students are different and have varied approaches to learning. Through customized education, students can improve their academic achievement irrespective of their starting level. A.I. will help make learning content easy to digest by offering recommendations and specific feedback to help improve the performance and effectiveness of learning. The use of A.I. tools will help track progress and generate impactful reports that further help creates relevant materials for students. Personalized learning will have a more significant impact on students with disabilities in learning and absorbing content. The use of artificial intelligence can actually help trial and error learning to become less intimidating for students. The idea of failing can sometimes become very overwhelming. Some students dread being put in the spotlight in front of their peers or teachers and face questions or other learning tasks. An AI-based computer system can help students learn in a less daunting environment. Students can learn in an environment that is free of judgment and supports learning by trial and error. The AI-based system will provide solutions to questions and allow the improvement of learning outcomes. We might just get to see A.I. become more sophisticated and develop machines that can read the expression on a student's face. They would help identify times when a student struggles to grasp a concept or subject and then modify the lesson appropriately to better get the idea. Even though the idea of customizing a curriculum to every student's needs is not viable at present, it could be an area that AI-powered machines would provide solutions.
Virtual Learning Environment: Artificial intelligence powers platforms used for digitizing textbooks and allowing access across devices. These platforms allow students who are unable to attend classes to study and foreign students to study courses that are unavailable in their countries. A.I. is allowing the translation of learning materials into different languages, which is helpful for non-English speakers. Virtual learning is opening up opportunities for increased numbers of students. Students can now learn from about anywhere without the need to be physically present in the classroom.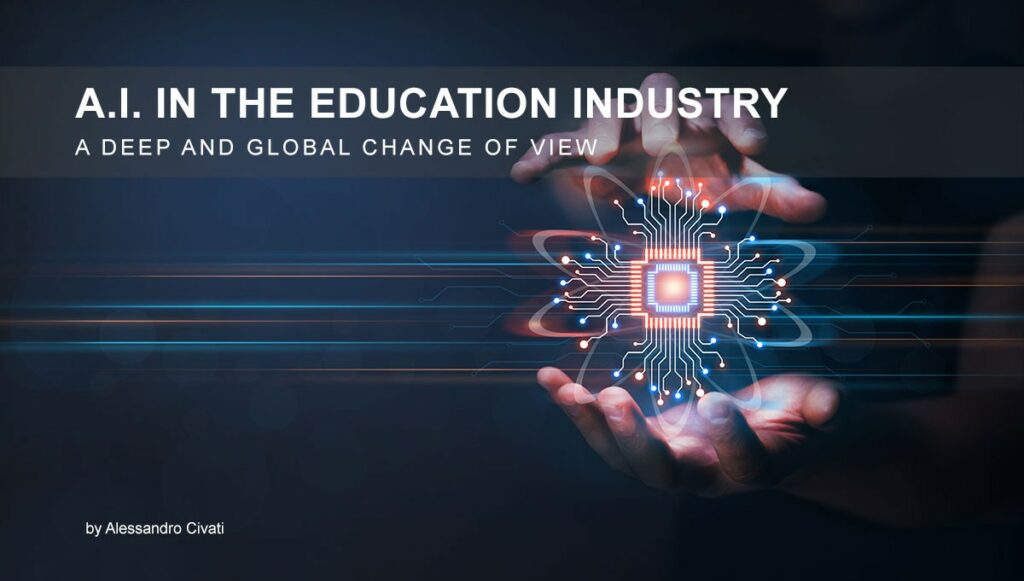 Universal Access and 24/7 Assistance: A.I. chatbots in the education sector have helped students answer any questions without waiting until class time. The A.I. chatbots act like around-the-clock assistants allowing students to resolve their queries anytime and from anywhere. 
Facial Recognition: Some academic institutions are reported to have started using AI-driven facial scans to identify their students. Facial recognition eliminates the need for student I.D.s and improves administrative, research, and security tasks. The technology can also prevent crime within academic institutions since it can be used to identify culprits. The rising violence and gun-related incidents in schools have compelled school administrators and other security actors to find ways to combat these threats. Increased investments in AI-powered surveillance and security solutions will help address gun shootings and other crimes in schools.
A Change in the Roles of Teachers: Teachers will always have a role to play in the education sector. The teacher is irreplaceable! However, increasing use of artificial intelligence in the education sector may herald a modification of the roles of a teacher. A.I. can take over functions such as grading tests, improving student performance, and help with real-world tutoring. A.I. could end up taking over the same preparatory course material and its delivery. It would see the revision of the roles of a teacher, which could take on the role of a facilitator to provide human interaction, help struggling students, and provide hands-on experience. As A.I. technologies continue to drive changes in the classroom, we will continue to see changing roles for the teachers but never a total replacement.
Artificial Intelligence and Blockchain technology are changing the Educational Industry forever. We can see to manage the change by developing specialistic training for teachers, professors, and Educational Managers. It will be a challenging experience, but the process is started, and it cannot be stopped.
Author: Alessandro Civati
Email: author.ac@bitstone.net
Blockchain ID: https://lrx.is/gbMyc3s49w
Blockchain Intellectual Property Protection: