Blockchain is increasingly being adopted in the education sector to achieve different outcomes ranging from student records to human resources. The Ministry of Education and Training in Vietnam recently signed an exclusive agreement with a Singapore-based smart-contract platform, to archive its student records using blockchain. The testing result was the creation of a transparent and immutable record that aids in faster verification processes.
The management of certifications can be quickly resolved using technology that will have a transformative effect on education and become cost-efficient. Identity verification and record-keeping are critical applications of blockchain technology that can be tapped and used in education. The student records archive by Vietnam represents the first and most significant deployment of public blockchain at the national level by a country's government. After the trial period, the National Qualification Archive program will be implemented for new steps.
What Has Been the Impact of Blockchain Technology On Education?
Cryptocurrency represents the most exciting and significant technology of the last century. Blockchain technology supports a decentralized virtual currency, most notably Bitcoin, that allows fast and anonymous transactions. The technology is being adopted widely across different sectors, including financial, healthcare, and education sectors. The education sector is characterized by rapidly occurring changes as well as fast-changing technology. These changes transcend the smart boards and remote learning. We'll see how blockchain has been used by educational institutions and administrators to achieve outcomes such as create innovative learning platforms, smart-classrooms, control the dispersal and use of copyrighted material, and keeping student records. Blockchain is projected to play an integral role in schools and the education sector in the future.
The most notable areas in which blockchain is expected to transform in the education sector are:
Student Records and Credentialing
Blockchain is being considered the perfect technology for storing, using, tracking student credentials. For example, blockchain-issued diplomas will allow learners to get convenient and faster access to their records and facilitate sharing their qualifications with potential employers. It eliminated the need for employers to contact the universities and colleges to verify the information about an applicant's accomplishments. Another significant advantage is that their records aren't locked up in their alma mater but fully belong to the student. Students will be able to use their records at any time or as the need arises.
A Partnership Platform
Blockchain as a platform offers transparent storage of records and supports sharing and communication. Universities and colleges strive to ensure that students have a successful experience as they transition through their courses. It is about creating a relationship between professors and students by providing adequate guidance and advice. The platform can share information, including lectures and important events, which can help sustain efficient relationships between faculty, students, and alumni. Blockchain will help break potential barriers between students and faculty.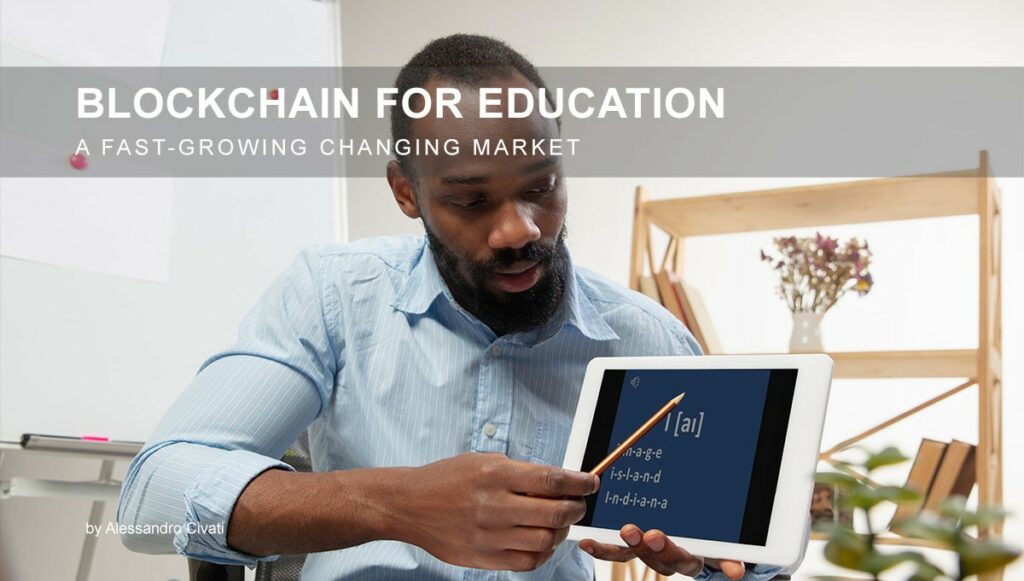 Copyright Protection
Academic institutions have to grapple with the challenge of plagiarism, management, and dispersal of copyrighted material, especially on the internet. Blockchain technology offers a secure form of storage since the information is recorded unalterable and encrypted state. Therefore, academic material will be not only safe but also unchangeable. Any use of the material will be recorded into the chain, and thus the owner can have control of access to their intellectual property. With blockchain technology, ownership can be verified easily, and intellectual and digital property utilization can be tracked.
Drive and Support Innovation
One prominent application of blockchain in the education sector is in the development of learning platforms. One such project is the Education Ecosystem platform that uses blockchain technology to facilitate connections between academicians, developers, students, and content producers. Using similar principles, education institutions can create their own ecosystems that enable access to study materials and sharing projects and ideas for students.
The generated internal tokens can be used to request study materials, download books, and request feedback. Tokens are earned by users through the invitation of new participants, watching videos, and making contributions. Content creators also receive rewards for their material and activity, and users will also earn tokens from interacting with their content. The net effect is that students get access to more learning materials the more they learn and practice. Interactions on the education platforms have obvious benefits to all stakeholders and enhance outcomes across the board.
In Human Resources
Blockchain technology can streamline and make processes easier for all sides – both for students and employees. It can simplify the application process for students, job applications, and the storage of personal data. Blockchain allows for the storage and sharing of student information and certifications. As pointed out earlier, all the information is secured using advanced security features and protocols, making it impossible to falsify data.
Employees and human resource managers can be guaranteed access and use of accurate and relevant information. No more encounters of lies and inconsistencies about degrees and diplomas, accomplishments, and institutions attended and further need to verify all this information to ascertain its accuracy.
In conclusion, blockchain has the potential to transform educational systems in many different ways. The technology is best suited for secure data storage, networking, and information sharing, making processes faster and more efficient. In the education sector, blockchain will be addressing significant gaps in communication, credentialing, and copyright protection. Accelerated adoption of blockchain is expected as the education sector adjusts to a new reality in a fast-paced world and post COVID-19.
Author: Alessandro Civati
Email: author.ac@bitstone.net
Blockchain ID: https://lrx.is/bEe9tYFyK6
-§-